Anonymous
What concert performance is this gifset of yours from? post/43813728880 I've never seen it. Thank you! <3
http://www.youtube.com/watch?v=JSRQ0Mc55ZU
"There is no greater bliss than dancing and performing. It is like a celebration and when you are caught up in that place, where certain performers go when they become one with the music, one with the audience, if you are on that level, it is like being in a trance, it just takes over. You start to play off each other and start to know where you are going before you get there. They have got to know where you are taking it and respond. It is like playing ping-pong. It is like when the birds go (migrate) and they all know when they are going. Or like fish. They are telepathic, they are on the same line. That´s what happens when you perform, you are at one with the musicians and the dance and the music and you are in this trance. And man, you got ´em. They are in the palm of your hand. It´s unbelievable. You feel you are transformed"- Michael Jackson



Anonymous
can u post your icon? i really love iy
https://24.media.tumblr.com/2d7c3c307d67860ce4578cf3511a6482/tumblr_n431omWiLA1qiym38o1_1280.png
Anonymous
i want to follow you so bad but constant reminders of Michael being gone would kill me but my God i love your blog <3
oh… thank you
Ryan White's mother Jeanne speaking about Michael Jackson's friendship with their family. Ryan White was an American teenager who became infected with HIV from contaminated blood treatment and was then expelled from middle school because of his infection, and he suffered the stigma and isolation associated with the disorder in the 80s. He and Michael Jackson became friends after Michael had heard what had happened to him. Jackson would dedicate Gone Too Soon in his memory, releasing the song on World AIDs Day in 1993 and using his performance of the song at Clinton's presidential inauguration to address the illness and urge for more to be done about it. His friendship with the family continued after Ryan's death, and Jeanne has said that she and her family would take vacations at Neverland Ranch.

And I just realized it was the anniversary of Ryan's death yesterday.

(how she started sobbing as Mike held her always gets me)
Anonymous
I tried submitting that MJ/Tinkerbell gif a while back, it's still not here.... why?
it's here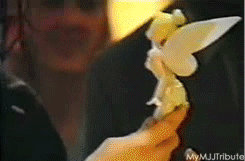 i didnt post your submission because your email was showing and you said you dont want it out there so… anyway, it's very cute indeed :)
Anonymous
hello! So here is the story, my computer broke down there a few days and all the unreleased/sessions Michael's tracks with it. I searched torrents, download links, etc. but nothing. Idk if you/your followers can help me but I really hope so!!! Thank you in advance and sorry to have bothered you and for my bad english.
i'm sorry i don't have a link, can someone help??
im pretty sure itseulonzobitch alone is responsible for at least 50% of the notes i get
Anonymous
Do yoy know where to find that pic of Michael and lisa on vacation with her kids? he's wearing a rash guard, they're like at beach. It say banza on the front. I'm going crazy searching
you mean these? : x, x & x It was on South Africa 1997, if you want to search for more :)